Werner Steinsdorfer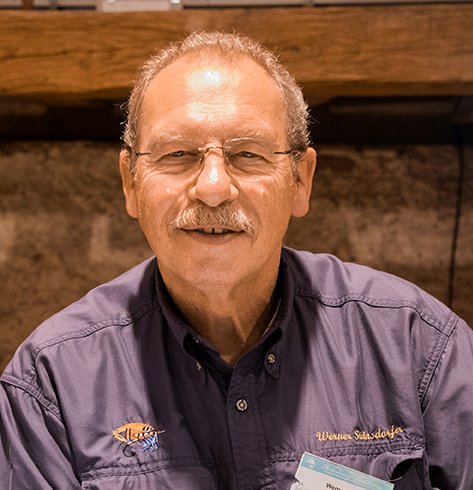 Werner was born in 1958 in Neustadt an der Donau, Germany. At the age of five, Werner and his dad fished for perch and chub in the Danube and Abends Rivers and for carp in their own pond.
Werner started fly fishing in 1978 in the Abends and Moosach Rivers. He fished using a grayling and HUCHEN for the first time in the Moosach close to Langenbach, Germany. He discovered fly tying in 1982 and followed the instructions found in "Zwanzig Fliegenmuster reichen aus" (Twenty patterns are plenty) by Rudi Rubel.
When a "regular's table" was established in Regensburg, Germany in the mid-1980s, Werner met Werner Schäfer, Rudi Rubel and Edgar Pitzenbauer. Together they went fishing and Werner was able to pick up many fly tying tricks and techniques from Rudi Rubel.
He not only fishes for salmon, but also for withing, pike, carp and asp. He also enjoys fishing for salmon and steelhead in Canada, but through it all the grayling remains his favorite.
Werner's local waters are the Danube and the Abends. He has leased sections of the Abends to both fish and relax with his friend Uwe.
Between 1987 and 1996, Werner Steinsdorfer ran a fishing retail business in Neustadt an der Donau where he sold everything from big game to fly fishing. During this time, he also worked as a teacher for the Staatlicher Fischerprüfung (National Fishing Examination) as part of the team at the Neustädter Fischerfreunde and taught a course on fishing equipment.
Werner has been organizing fishing trips since 1990, and began focusing exclusively on fly fishing in 1995. He has always enjoyed taking trips, either for diving or fishing, and has visited countries, such as Egypt, Cuba, Canada, USA (Alaska), Spain, Slovenia, Austria, Norway, Denmark, Netherlands, Ireland, England and Italy.
Werner has a passion for collecting old fishing equipment, such as rods and reels. He also paints, visually arranges his own flies, and builds fly fishing rods. For many years, Werner has been writing for various fishing publications in both Germany and abroad and is a member of three fishing clubs; two local and the Freunden der Gmunder Traun.
Werner has been tying flies at national and international events and exhibitions since 1996.
In 1999, he opened a fly fishing school where he teaches casting and tying for beginner and advanced levels. In 2001, a fly fishing retail store was added to the school.
In 2000, a TV-movie titled "Mit Fliege auf Hecht" (Fly Fishing for Pike) was shot featuring Werner himself. In February 2006, Terranova Films shot a documentary that features several episodes on fly tying.
Werner is proud to have won many national and international prizes at various fly tying competitions.