Guido Scala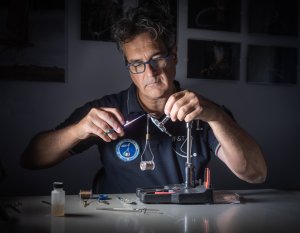 I was born in a valley in the Rätische Alps, I fish there since I was a child. I practice fly fishing and tying flies
for almost 30 years. I am a member and secretary of the Italian Fly Tying Association and I hold construction
classes and meetings in fly fishing clubs in Northern Italy. I collaborate with fly fishing sector's companies
and I participate as a tyier, in events and trade fairs.
In the last years I got passionate about Tenkara fishing and especially about the construction of traditional
Japanese flies (kebari). I am an administrator of the Facebook and page Association Tenkara Italy; and I have been
teaching a kebari construction class in the Patreon Channel Tenkara for one year.
I am a Professional Fishing Guide (AIGUPP – Italian Association of Professional Fishing Guides) and I carry
out the Tenkara fishing guide service, mainly in the streams and rivers of the Alpine valleys.