Ali Hutchens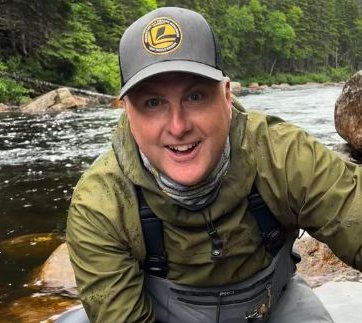 I'm the Director of Fishing in International Hunting Scotland, alongside my wife Cara who is the Director of Hunting & Shooting. We have been together for over five years and share a passion for Fieldsports. We both play very much to our strengths in the business and I'm not afraid to admit that Cara is a far better shot than me with both rifle and shotgun.
I've been fishing since I was five years old (48 years) and never lost that passion for the sport that I was introduced to by my father and grandfather. I've also been shooting on and off since I was in my early teens. But it always took a back step to my unrivalled passion for fishing. I began my fishing career as a freelance fishing guide around 12 years ago and this naturally progressed into being the director of my own fishing business.
I also gained some experience in the fishing industry whilst tying salmon flies at various shows around the UK and overseas for the past 10 years. I have written for a few very well-known fishing magazines about my fishing adventures both here in the UK and internationally and have even been involved in making and featuring in a film whilst fishing in Norway. I have also been lucky enough to be sponsored by some well-known brands in the fishing industry and was part of their "pro-teams" for some time.
My love for fishing has taken me abroad and whilst chasing my main fishing passion (trout & salmon), these travels have taken me to some excellent destinations in Sweden, Denmark, Norway, and Newfoundland. This experience of traveling compliments the main stay of our fishing business here in the UK and supports our knowledge base of fishing destinations overseas too.
This in turn ensures we are best informed for our guests when they make booking enquiries with us.