Per Johansson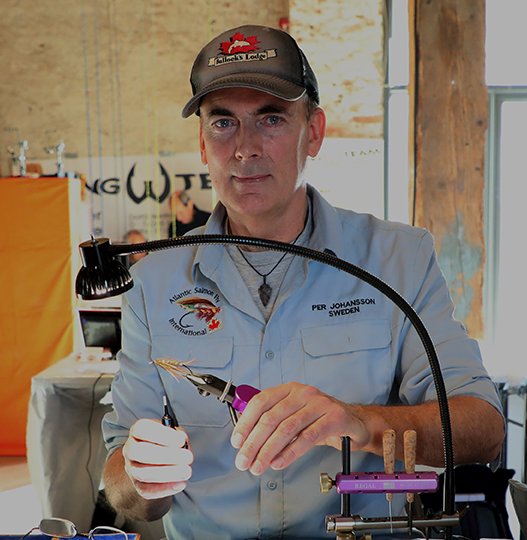 My interest in flyfishing and fly tying came when I was around 11-12 years old. I learned the basic things about how the fly should go in the stream and many other things from my grandfather in Älvdalen. I have good memories from the time when we made a fire and grandpa boiled strong coffee in the old black coffee pot.
We fished for trout in the river. The flies we used were often the classic British patterns. I continued with this flyfishing for a few years mostly in Älvdalen and the rivers in western part of Jämtland.
A few years later I got the opportunity to fish in Driva in Norway, a very beautiful salmon river. It was a new great experience and my interest in salmon fishing started.
After a few years I visited Stjördalsälven and also the nice river Forra, I liked these rivers and it became a tradition to visit these rivers every year. For around three years I have been fishing for salmon in Canada around the areas of Charlevoix in Québec, a beautiful place with nice rivers.
Several years ago, salmon fishing became more interesting to me and my fly tying became more focused on Spey flies. I noticed that these flies worked very well and were often the most effective choice.
I like the style of these flies and I like to tie them. The larger sizes with silk gut are popular flies for collectors and for framing. I am involved in flyfishing and fly tying events in Sweden, Norway, Canada and England.
It will be nice to participate at the EWF.
Come and see me, I will gladly answer your questions and am happy to talk to you.
Best regards, Per Johansson